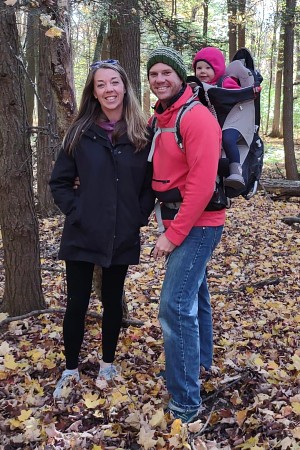 Hello I'm Holly! Most people don't see me on a day to day basis; I'm the behind the scenes innkeeper. I would like to take a moment to welcome you to our family and tell you a little about who we are.
I work full time for The University of Vermont Medical Center as a Surgical Nurse. My days are spent fixing people's Rotator Cuffs and ACL's. It's really fascinating work! Our evenings are fairly typical of most young families. We love to read books, dance to music and spend a lot of time cooking! While Kyle is the primary innkeeper and breakfast chef, I am the baker! Most of my recipes come from my late grandmother Pearl who grew up on a dairy farm in Randolph, Vermont.
Our daughter Cassidy is 17 months old and a very special little girl. She has a huge heart and a smile that lights up the room. She loves helping out with all innkeeper responsibilities; specifically, cookie sampling and greeting guests. Our fur-born is Moby, a Husky Mix dog who loves playing with sticks, stealing snacks from Cassidy and sleeping in front of our fireplace.
People often ask us "How do you get everything done and stay sane?!" We are very fortunate to have two amazing women that help with serving and housekeeping; Jennifer and Amy. They make operations run smooth at the Inn and we are very grateful for them!
This blog is going to be a memoir about our lives as innkeepers, the food we grow and the food we prepare. In addition, I will journal about events going on at the Inn and around town.  Offering a local knowledge about small business and all the fun activates the north country has to offer!
We feel truly fortunate to have been given this amazing opportunity to own the Sinclair Inn Bed & Breakfast We hope our enthusiasm and positive energy make your stay extra special.
Love, Holly Kyle Cassidy and Moby